Description
A bring-your-own-device (BYOD) audioguide to accompany the exhibition Hill and Adamson: A Perfect Chemistry, a retrospective of the the uniquely productive and influential partnership of David Octavius Hill (1802-1870) and Robert Adamson (1821-1848); in the earliest years of photography.
Content
Sixteen pieces of audio content led the visitor around the exhibition, introducing the various stages of the their partnership, the locations and sitters that they photographed and the technical processes behind their work.
Platform
The Jekyll site generator, with an open-source template originally developed by ACMI Labs was used to build the guide as a static, responsive HTML website, with a familiar, stop based audioguide experience. This avoided the need for the user to install an app, maximising cross-device compatibility. In addition, the user could begin the tour straight away without any downloads, using the gallery Wi-Fi to stream the audio as required. Once the site was built, it was deployed to an AWS S3 bucket configured for static hosting, using Cloudfront as the CDN.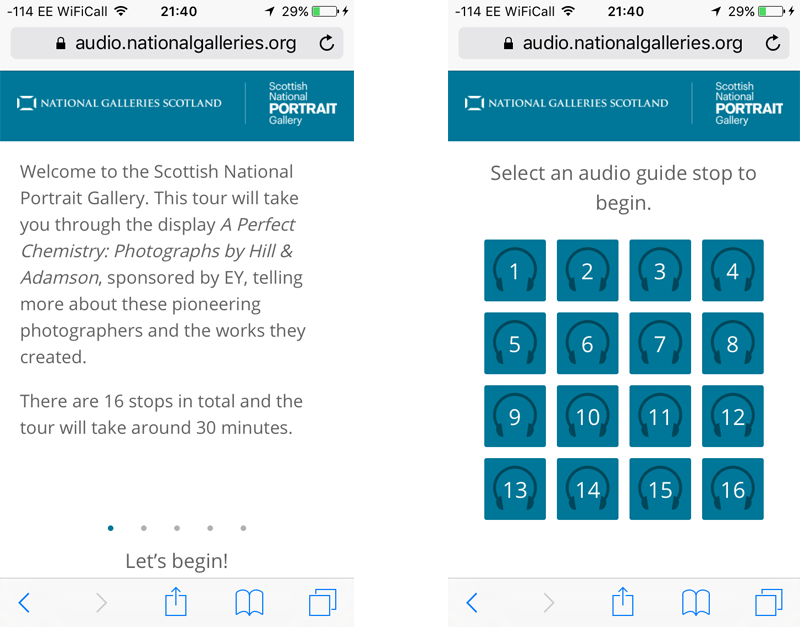 Results
Over the course of the exhibition, the average take-up rate for the guide was between 12-15%, with overall positive feedback from visitors and an interest to see more audio content within gallery displays. The findings, along with results from a project survey informed a wider proposal relating to adoption of audio tours and content across the galleries.